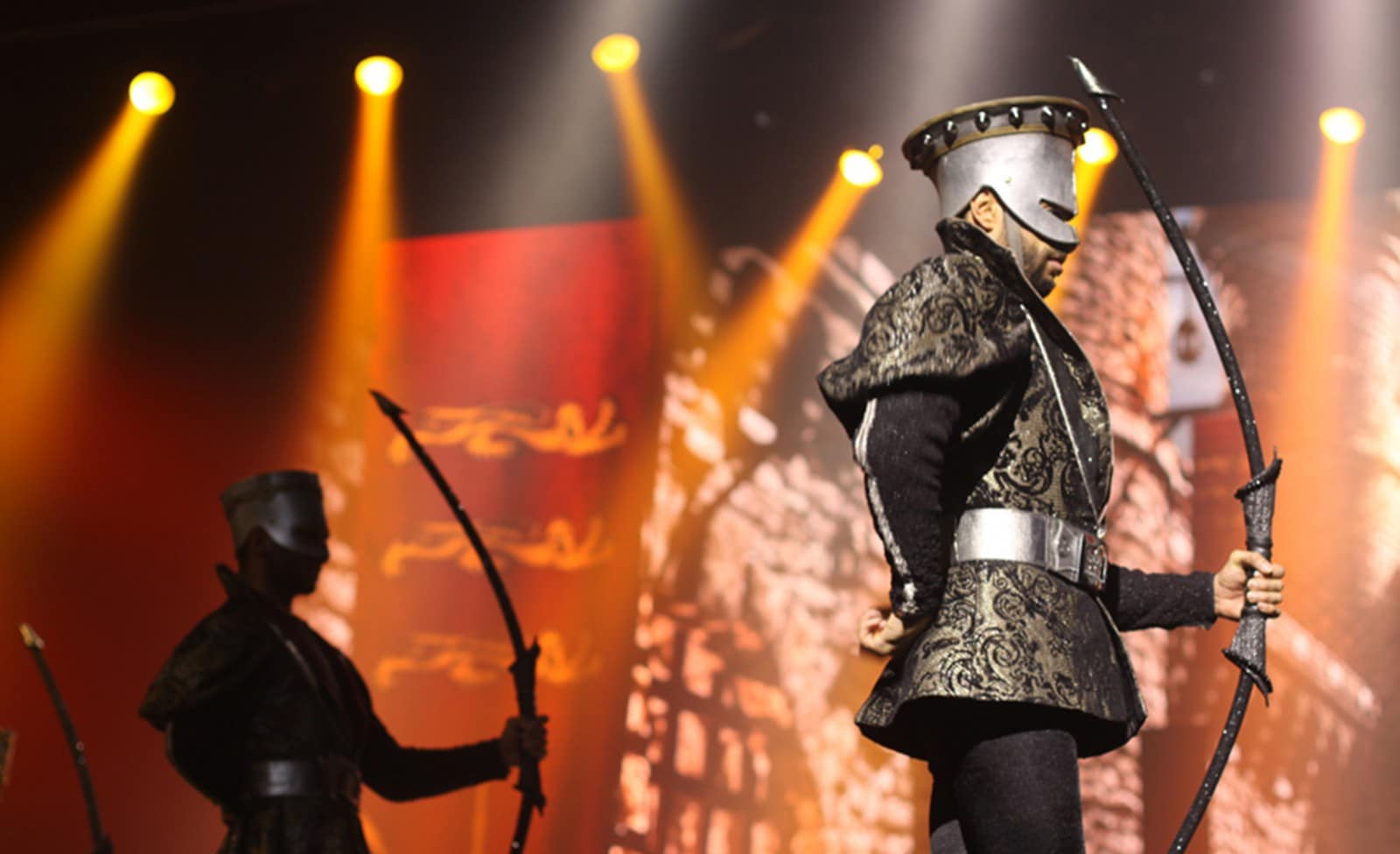 DESIGN AND CONSTRUCTION OF THEATER PROPS FOR MUSICALS
Since 1996, the Atelier Nils Rousset has been designing and creating high-quality, custom-made theater props for show business.
Before creating a theatrical prop, the team at the Atelier studies how the artist will use it. A prop is an extension of the artist, much like his or her costume. It should never be a constraint; on the contrary, it should be a support that the actor to embody the role being played. We at the Atelier know that the possibilities for prop creation are limitless, and our experienced team is dedicated to finding the most efficient and appropriate technic to construct a theatrical prop that is solid, realistic and comfortable to use – every prop we build is made in careful consideration of these demands.
The Atelier Nils Rousset has had the great pleasure to participate in the creation of theatrical props for all types of shows and different time periods.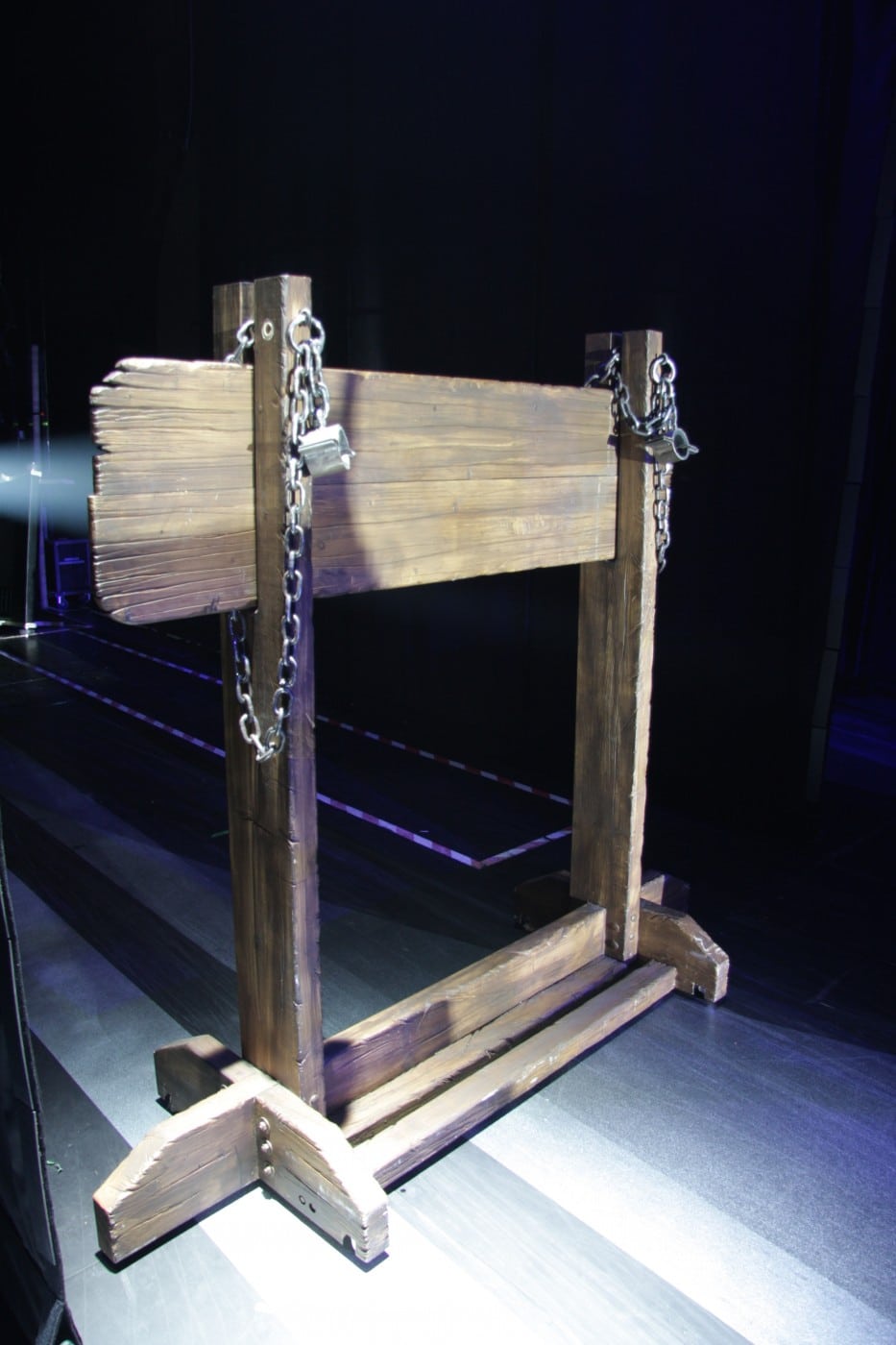 THEATER PROPS DESIGNED FOR A MEDIEVAL SHOW
Participation in performances such as Robin Hood, and more recently The Legend of King Arthur, has given the Atelier the chance to employ a wide array of technics in order to create medieval-themed theater props: weapons (bow and arrow, bludgeons, swords, weapon belts), musical instruments, giant banquets, embroidered and dyed banners…
| | | |
| --- | --- | --- |
| Gittern sculpted from wood | Close-up of a tissue-wrapped archers bow | Torch |
| Axes made from foam | Medieval-style fire cage on wheels | Items from a banquet table |
Props from the 1920s
Travel back to the 20s with the musical "Mistinguette". The Atelier constructed the furniture and stage props for this show from the Roaring 20s.
We created a large pile of books out of polystyrene, a large antiqued power switch complete with effects, a replica of an authentic Parisian park bench and an old-fashioned microphone…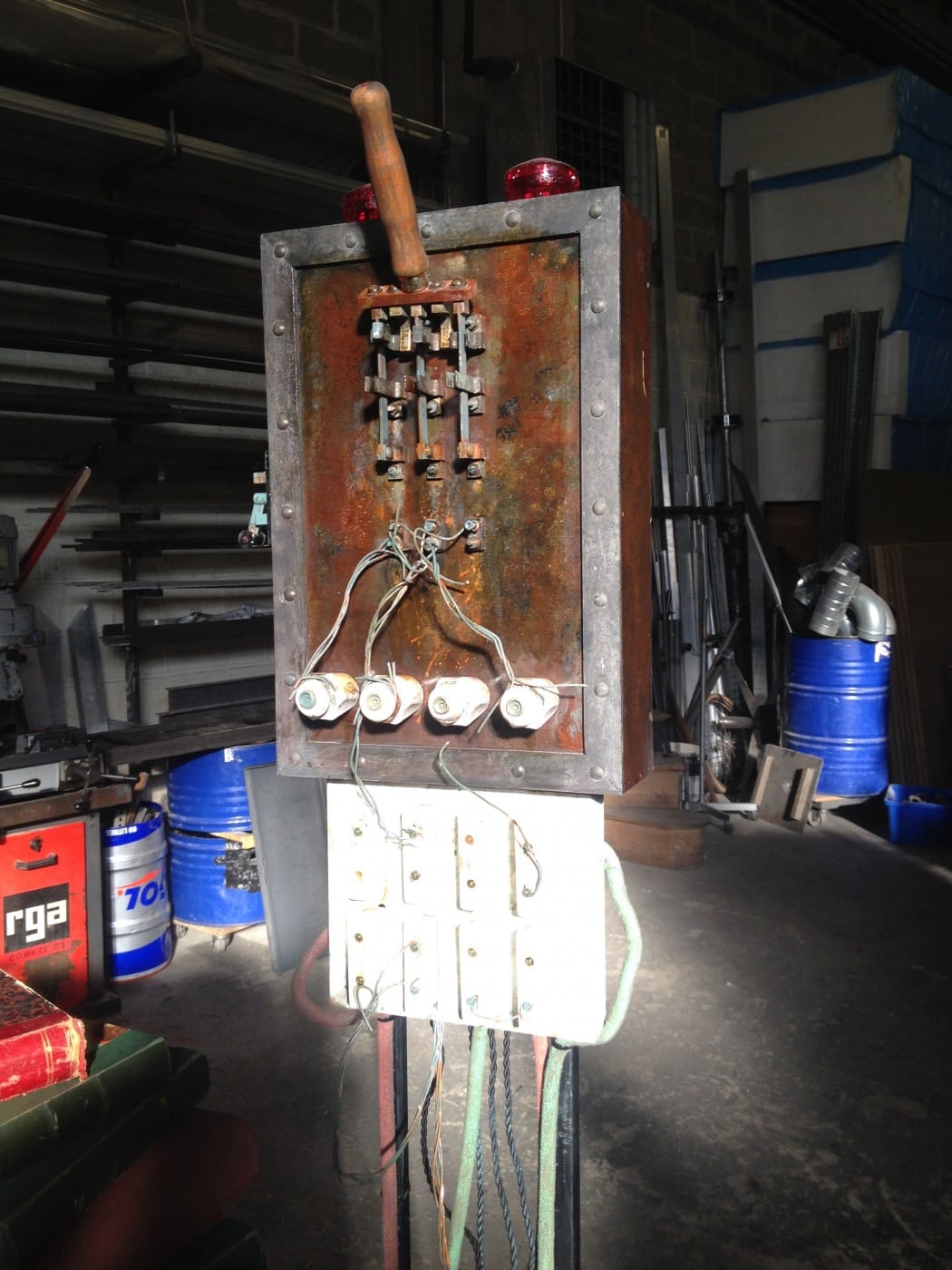 RECYCLED PROPS
Working on Pascal Obispo's musical "Adam and Eve" at the Palais des Sports de Paris was particularly interesting. One of the caveats for this décor was to use only used and antique objects, which gave us a lot of room for creative interpretation in arranging the props. One of the most beautiful objects we found was an authentic Indian rickshaw. We decorated and patched up this rickshaw, and got it to really roll!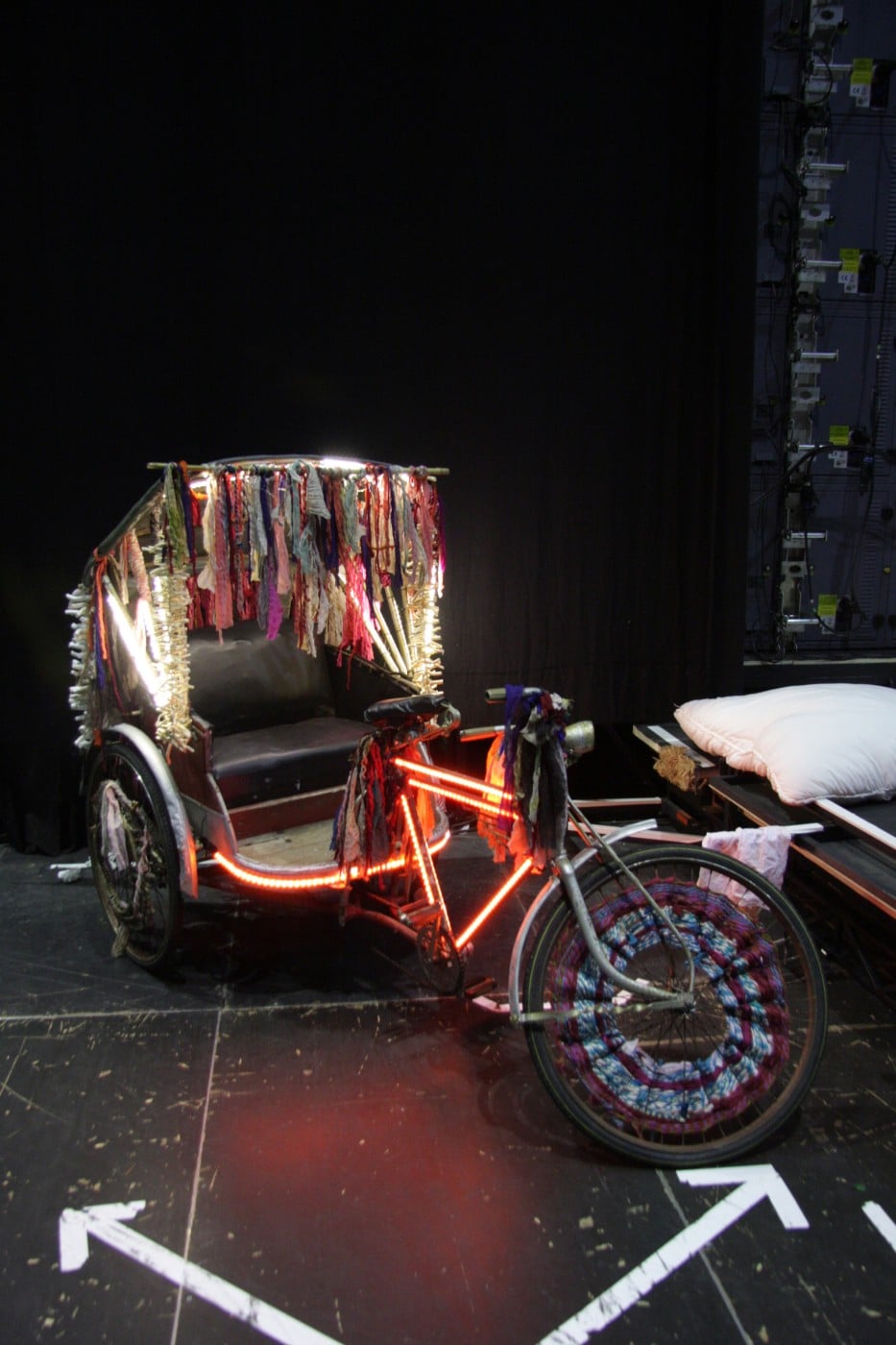 It was also a lot of fun designing and building a number of different trollies, decorated with built-in LEDs.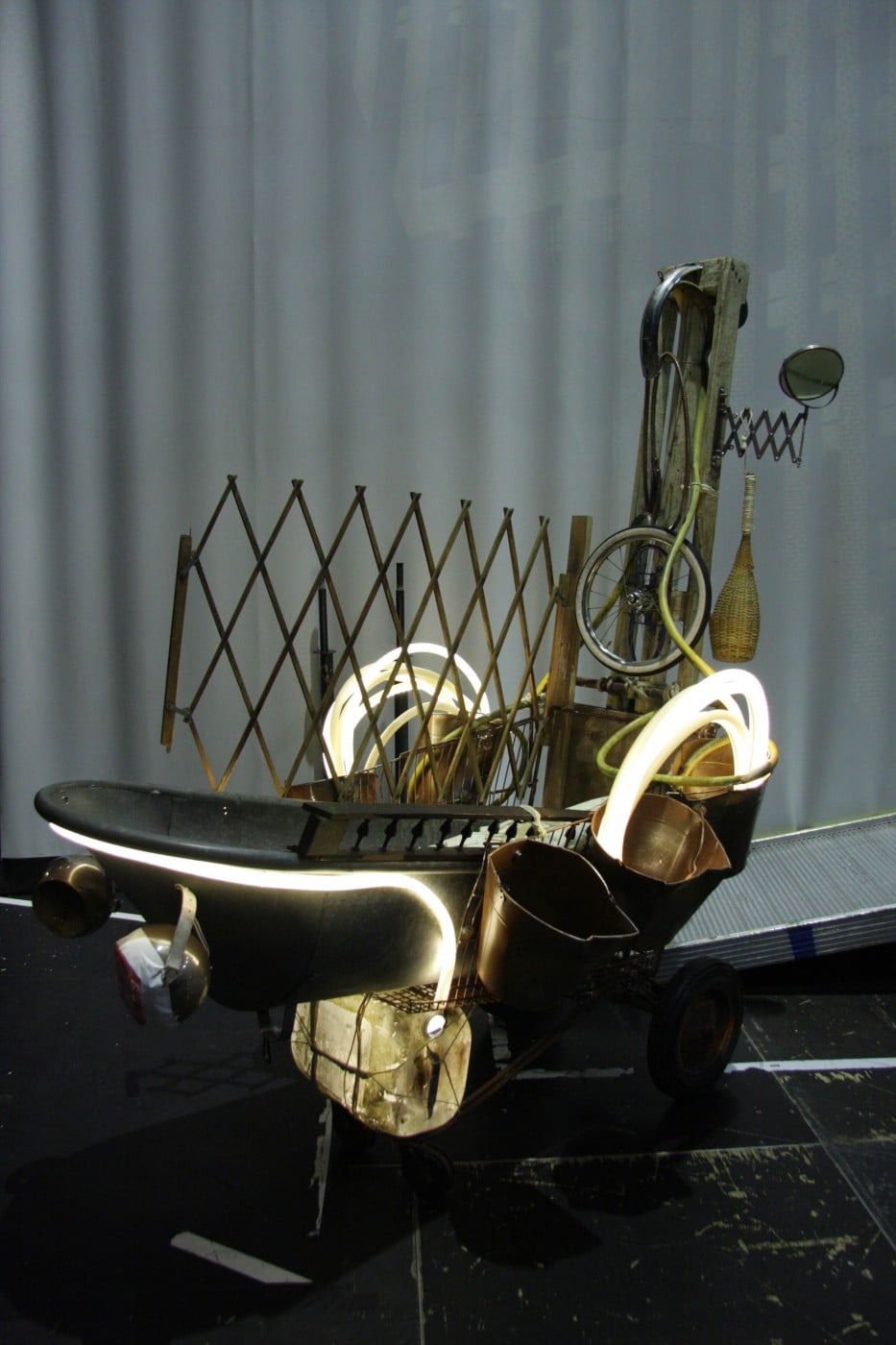 ---
PROPS AND ACCESSORIES